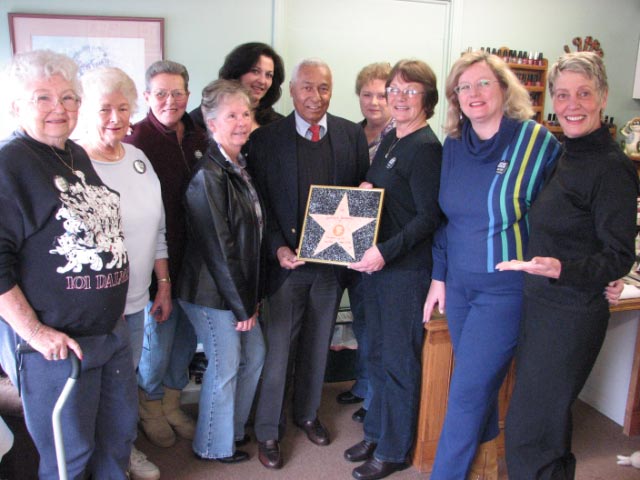 Photo by Willits Nickel & Dime
Dance Legend Makes Stop in Willits!
by Eric Hoggatt
Tap dance legend, Arthur Duncan made an appearance on Wednesday at Tips & Toes Salon. Members of the Willits chapter of the Arthur Duncan Fan Club were on hand to greet the tap artist.
Duncan was at "Tap Camp" being held by Rosie Radiator in the Dos Rios area. Duncan was heading to SFO to catch a plane back to L.A. and made time in his busy schedule to mingle with his fans at Tips & Toes.
Duncan is being considered for a star on the Hollywood Walk of Fame and got an honorary star from his fans.
Today, he continues to perform throughout the world to the delight of his many fans from 17 years on the Lawrence Welk Show. In 2003 Duncan starred in the short film "Tap Heat" and is currently in negotiations for three movie rolls.
Duncan will be headlining Tap Day 2007 at San Francisco's Royce Gallery on May 25th along with Rosie Radiator and other tap dancers.
Tips & Toes owner Jo Ann Pinkerton graciously invited the Nickel & Dime to cover the event and it was an honor to shake the hand of a legend!